Consumer Lithium Battery for Electronic Appliances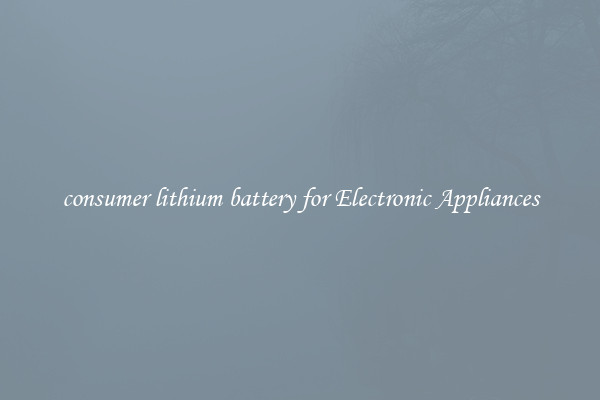 In today's fast-paced world, electronic appliances have become an integral part of our lives. From smartphones to laptops, these devices are powered by lithium batteries, a technology that has revolutionized the consumer electronics industry. Lithium batteries have several advantages over traditional alkaline batteries, making them the preferred choice for most electronic appliances.
One of the key benefits of lithium batteries is their high energy density. This means that they can store a large amount of energy in a compact size, making them ideal for portable electronic devices. Compared to alkaline batteries, lithium batteries can provide a significantly higher voltage and deliver more power. This translates to longer battery life and increased performance for electronic appliances.
Another advantage of lithium batteries is their ability to recharge. Unlike alkaline batteries which are non-rechargeable, lithium batteries can be recharged multiple times. This not only saves money by eliminating the need for frequent battery replacements but also reduces environmental waste. With the increasing focus on sustainability, lithium batteries contribute to the overall efforts of reducing electronic waste.
Moreover, lithium batteries have a low self-discharge rate. This means that they can retain their charge for a longer period of time when not in use. Unlike traditional batteries that tend to lose power over time, lithium batteries can hold their charge for several months, ensuring that your electronic appliances are always ready to use when needed.
Additionally, lithium batteries are lightweight and compact, making them convenient for portable electronic devices. Whether you are using a smartphone, tablet, or wireless earphones, lithium batteries allow manufacturers to design sleek and slim devices without compromising on battery life or performance. This is especially important in today's on-the-go lifestyle, where users value portability and convenience.
However, it is important to note that lithium batteries do have a few considerations. They are more expensive than alkaline batteries due to their advanced technology and higher performance. Additionally, lithium batteries require special care and handling to ensure their safety. Overcharging, overheating, or puncturing the battery can lead to thermal runaway, which can cause the battery to catch fire or explode. Therefore, it is crucial to follow the manufacturer's guidelines and use the recommended charging devices for lithium batteries.
In conclusion, consumer lithium batteries have revolutionized the electronic appliances industry. Their high energy density, rechargeability, long-lasting charge retention, and compact design make them the preferred choice for manufacturers and consumers alike. However, it is important to handle lithium batteries with care and adhere to safety guidelines to ensure their optimal performance and safety. With their numerous benefits, it is safe to say that lithium batteries will continue to power our electronic appliances for years to come.